Student Engagement and Classroom Management
What do we do when our students don't follow directions? You could be the best teacher in the world. With the best students in the world. And you'll never get 100% participation and cooperation.
Maybe you want to increase class participation, reduce interruptions, or get your students to just do their homework.
But the strategies that worked in a live classroom just don't carry over online. You can't take away recess or send them to the principals office. Even grades don't seem as motivating as they used to be.
The reality is that even before the pandemic, classroom management has been changing. Decades of research have shown that punishments and rewards only go so far in helping our students to succeed.
Many educators had already begun the shift to student-centered strategies. But the sudden change to online learning has forced all of us to make the shift more quickly than we'd like.
The MLS Approach to Classroom Management
An effective classroom management system is critical for student success. But classroom management alone won't improve student engagement and motivation.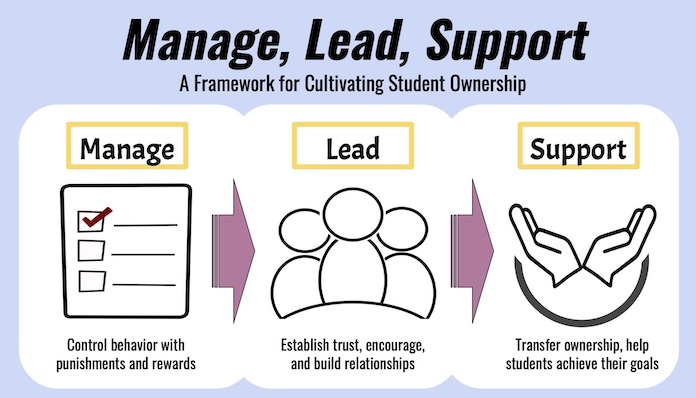 To engage and motivate our students, we need to embrace Student-centered approaches.  And it's not as simple as eliminating punishments and rewards. If our students aren't ready, doing away with traditional management creates chaos.
With the MLS Approach, educators support students wherever they are in their path to taking ownership of their learning. And they know when their students are ready to move to the next stage.
Manage: When students are defiant and disruptive, it's important to set clear rules and boundaries, and to enforce these boundaries with punishments and rewards.
Lead: Once students and teachers establish mutual respect, the focus shifts to developing a class culture. Leaders build relationships and trust to get the most from their students.
Support: Once students rise to our expectations, it's time for them to set their own. True motivation comes from ownership. To support students, we help them identify and work towards their personal goals.
To learn more about how LMS is helping thousands of educators increase motivation and engagement in their online classrooms, visit http://roomtodiscover.com/student-motivation

Classroom Management Workshop: Session Overview
In this online workshop, you'll learn the tools and strategies you need to get the most from your students, regardless of your teaching experience or their readiness.
You'll learn to identify the LMS stages, and how to know which is right for you and your students. You'll also practice using the tools that increase ownership and motivation, including rubrics, reflections, and goal-setting. By the end of this classroom management workshop, you'll have all that you need to bring student-centered learning to any classroom.
Session 1
The first session of the workshop begins with an overview of the Manage->Lead->Support system. You'll also complete a self-assessment to reflect on your go-to approaches to classroom management.
Next, we'll dive deep into three strategies that support students and promote ownership: surveys, goal-setting, and conferences. You'll participate in activities from the student perspective. And you'll collaborate with fellow educators to create your own plans for building ownership.
Session 2
In the second session, we work backward from student-centered strategies to explore the management and leadership approaches.
Management (punishments and rewards) can be highly effective, but must be used carefully. Through collaborative activities and discussions, you'll develop a strategic plan to address your greatest classroom management challenges.
Finally, we'll look at the complex process of developing classroom culture and establishing trust. Leadership strategies are key to helping students take ownership of their learning. When done well, it will save you time and energy, and allow you students to engage in meaningful learning.
Classroom Management Workshop Takeaways
The online classroom management workshop will help you manage and motivate your students, in an interactive, engaging way.
But more importantly, you'll walk away with plans, resources and tools that will allow you to be the teacher you want to be. And to achieve work-life balance, even during online learning.
Each participant receives digital copies of each of the classroom resources and planning guides we use throughout the sessions. So you won't just learn about student surveys and goal-setting. You'll have your own copies that you can edit, print, or upload to Google Classroom (or your preferred LMS).
Since the sessions are hands-on, you'll also have completed strategic plans, targeted to your classroom. These will guide your next steps and help you take ownership of your professional growth.
About the Presenter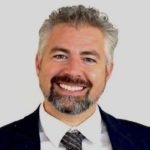 Jeff Lisciandrello is an expert in social-emotional learning and student- centered instructional practices, with over 15 years experience as a classroom teacher, curriculum designer, and instructional coach. In Jeff's workshops, educators, don't just hear about differentiation and inquiry-based learning, they experience them first-hand. You can connect with him via Twitter @EdTechJeff